Protecting your property from flooding
Preparing for a flood could save your family, possessions and livelihood.
Flooding is dangerous and can happen very quickly. The effects can be devastating. There are a number of things you can do to prepare for flooding to keep yourself and your family safe. Find out if your home is at risk, sign up for flood warnings and be ready to take action.
Is your home at risk of flooding?
5.2 million homes and businesses in England are at risk of flooding. There are simple things you can do now to help reduce the impact of flooding on your home.
Start by taking three simple steps to help protect you, your family and your home from the devastating effects of flooding:
Check if you are at risk of flooding: using a simple postcode search.
Sign up for free flood warnings: if you live in an area at risk of flooding you could get free flood warnings direct to your mobile, home phone, or email.
Know what to do in a flood: download the Environment Agency's 'Prepare Act Survive' flood guide.
Preparing for flooding
There's lots of useful information on preparing for flooding on gov.uk and also on the Property Resilience Forum.
Knowing what to do in a flood could save you thousands of pounds in damages and even save your life. The Environment Agency's 'Prepare Act Survive' flood guide will help you to know what to do in case of flooding.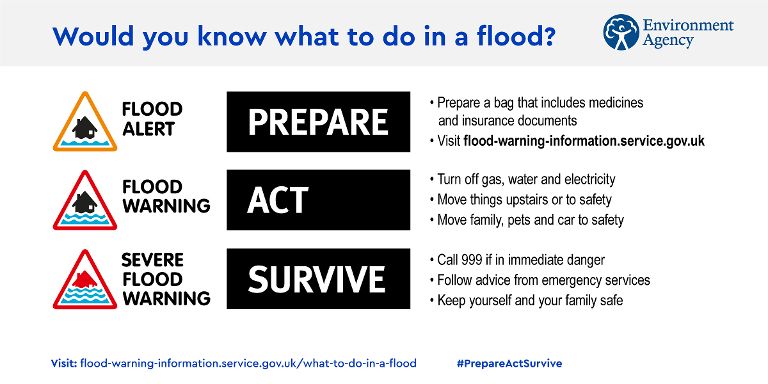 If you live in an area at risk of flooding, prepare a bag of essential items now to take with you if you have to leave your home. Keep this in a safe place. You could include things like spare medication, glasses, clothing, important documents and contact numbers.
Create a checklist of things to do to protect your family such as turning off the electricity and gas to prevent a fire. You could also add important contact details such as the number of your insurance company.
Think about getting insurance to protect your home or business against flooding. In most cases, flood insurance is part of your buildings and contents insurance. If you are finding it difficult to get your property insured for flooding, the National Flood Forum may be able to help.
Think about making your property resilient to flooding. To reduce flood damage lay tiles instead of carpets, move electrical sockets up the wall and fit non-return valves. If you know you live in an area at risk of flooding you could consider installing flood products. you can:
get advice from the National Flood Forum about how to protect your property and how much this will cost.
find flood protection products and services at Blue Pages.
find information about grants and funding, flood resilience and the BRE flood resilient house.
The public are advised to stay away from swollen rivers and not to walk or drive through flood water as just 30cm of flowing water is enough to move your car.
Recovering after a flood
If you have had to leave your home, make sure you check with the emergency services that it's safe to return.
If you have been flooded, contact your insurance company and follow their advice. If you haven't got insurance the National Flood Forum can offer help and support. Call them on 01299 403055 or visit their website. Take advice from specialists before starting repairs to your property. Most of the repair work after flooding will need to be undertaken by professionals appointed by your insurers.
Flood water contains harmful substances such as sewage, chemicals and animal waste which could make you unwell. If you come into contact with flood water wash your hands thoroughly. When cleaning your home after a flood always wear gloves, a face mask and sturdy footwear. For more information about how to safely clean up your home, visit  Public Health England.
Your local authority can advise you on how to dispose of used sandbags or flood damaged furniture and fittings.  
The Environment Agency has specially trained Flood Support Officers across the country who provide information and advice during and after floods. If you have been affected by flooding, contact the Environment Agency for details of local community drop-in sessions to get information, advice and support.
Think about repairing your property to make it resilient to flooding. To reduce flood damage you could take measure such as laying tiles instead of carpets, moving electrical sockets higher up the walls and fitting non-return valves. Suppliers of flood products and services can be found on the Bluepages.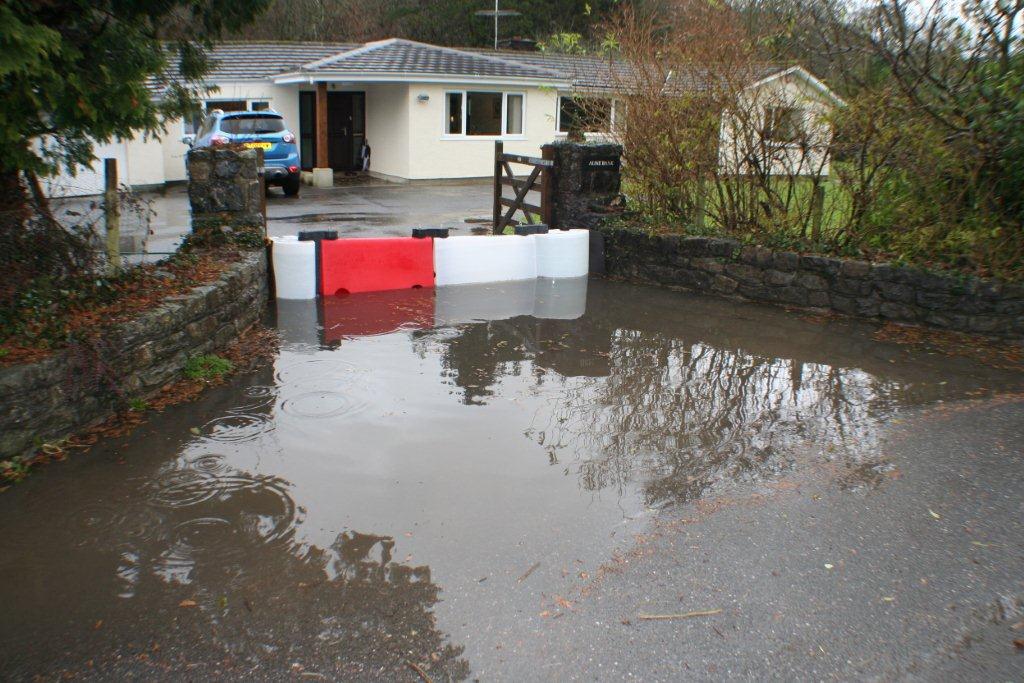 A household saved by a flood barrier (with thanks to Fluvial Innovations)