Storm Deirdre
Storm Deirdre formed in the Atlantic, bringing severe weather to the UK on 15 and 16 December 2018, reaching a minimum pressure depth of 980hPa.
Strong winds and heavy rain spread to many areas, with severe gales in the southwest, resulting in a wind gust of 79 mph at Aberdaron. Although it was a windy day, the most dangerous impacts were from snow and freezing rain. Heavy snow affected central parts of Scotland and northeast England. Widespread freezing rain also caused impacts in northern England and southern Scotland, giving icy conditions on roads.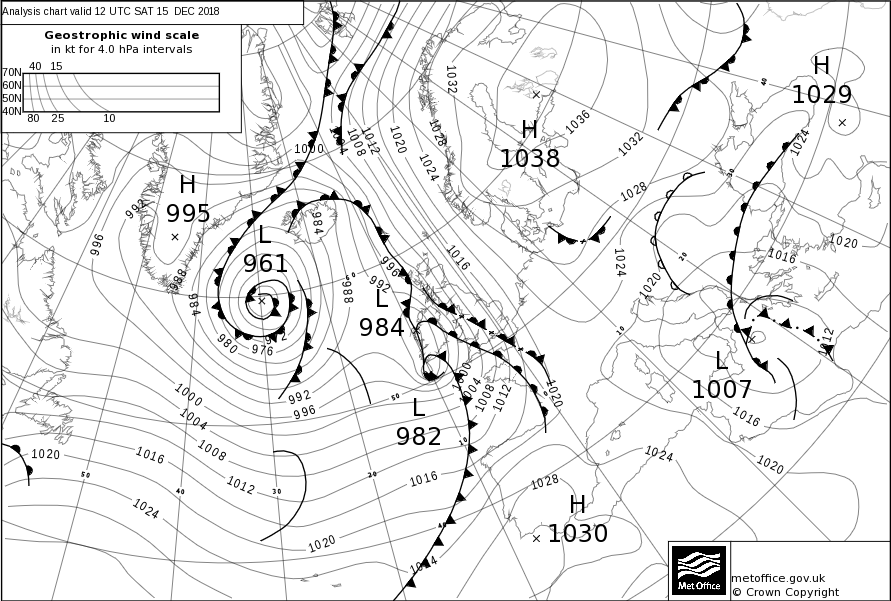 Storm Deirdre impacts
Freezing rain caused treacherous conditions and multiple traffic accidents, particularly on the M74 and across southern Scotland, and the A66 across the North Pennines was closed. There were further traffic incidents across parts of England and Wales, reports of fallen trees and several hundred homes without power across parts of Wales and Scotland. Planes had to abort landings at Manchester Airport due to strong crosswinds.
Storm Deirdre maxiumum gusts

| Site name | Area | Max gust (mph) |
| --- | --- | --- |
| St. Bees Head | Cumbria | 76  |
| Sella Ness | Shetland | 75 |
| Aberdaron | Gwynedd | 74 |
| Pembrey | Carmarthenshire | 71 |
| Inverbervie | Aberdeenshire | 70 |
| Roches Point | Co. Cork (RI) | 67 |
| Sherkin | Co. Cork (RI) | 67 |
| Scilly | Cornwall | 60 |
| Magilligan | Co. Londonderry (NI) | 56 |