'My vital role in the Met Office engineering team'
Ashley Jones, Met Office Senior Engineer, explains the importance of his role and shares some of his best experiences.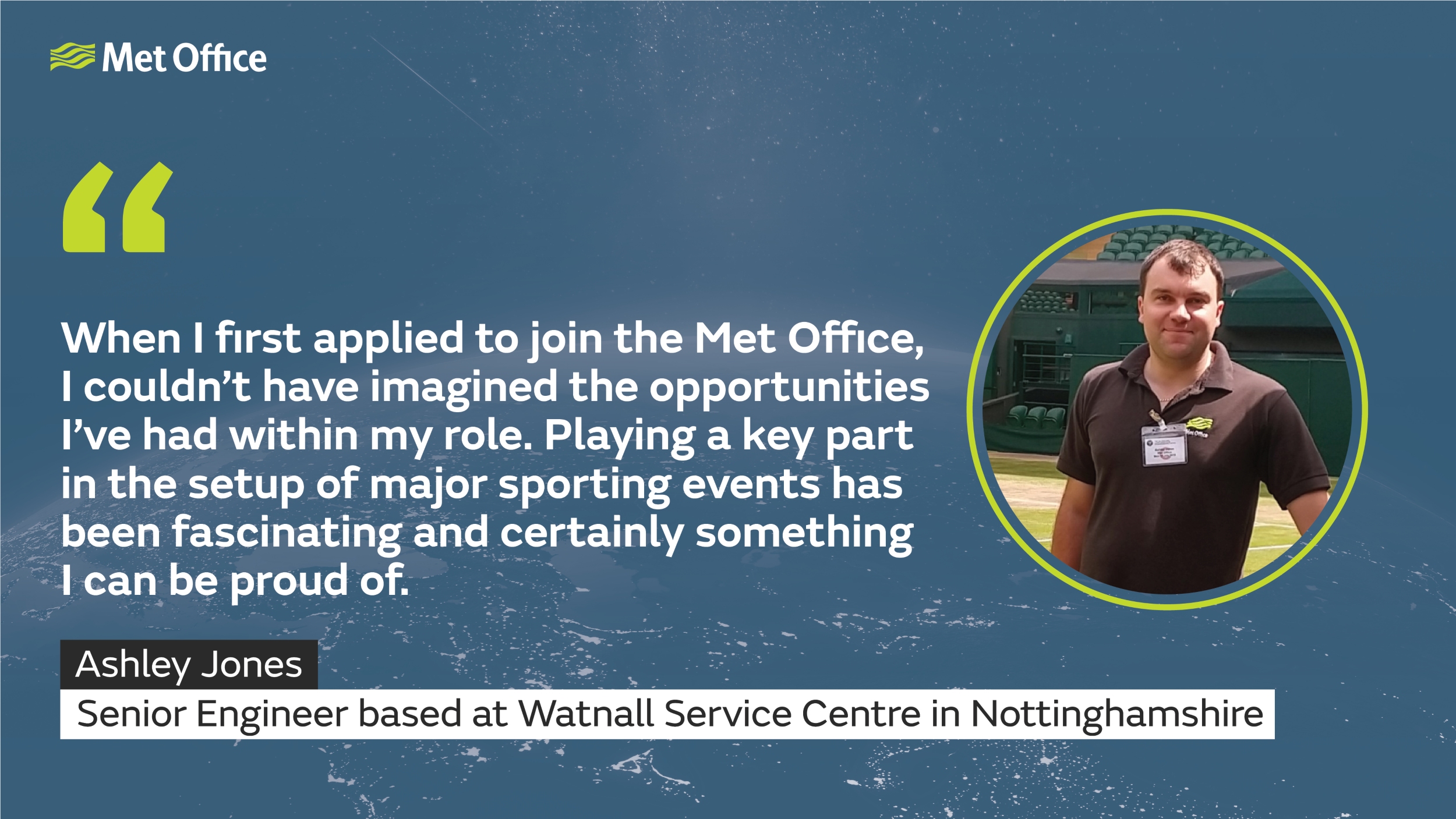 1. Tell us about you and your background 
I've always enjoyed being hands on and learning how things work. I studied Electronic Engineering at university, where I also completed a placement year at a set-top box manufacturer. After graduating I spent three years as a Firmware Engineer at a company that made Cryptos capable of sending Top Secret information over standard internet connections.
2.  

Why did you want to work for the Met Office in engineering?
I was facing redundancy from my previous role, and while I was job hunting, I saw a Met Office advert for an Engineer within the Field Service Engineering team. I'd never considered the Met Office would have engineering roles. The job description sounded really interesting; it looked like something a bit different to what I'd been doing, but matched my skillset well. In particular I liked the opportunity not to be permanently desk-based like my previous job, as well as being able to travel around the UK and to some of our British Overseas Territories.
3. How have you progressed to your current role?
Since joining the Met Office as an Engineer in 2015, I've enjoyed taking on opportunities to do projects outside my normal duties. These have included improving various admin systems used by the Engineering Team, implementing hardware improvements and changes, as well as introducing and developing a competency logbook training program for new starter engineers. I was promoted to become a Senior Engineer in 2023.
4. What do you do in your role day-to-day? 
I'm based at our Service Centre in Watnall, Nottinghamshire, which is one of nine we have in the UK. From Watnall we maintain and respond to faults at approximately 70 UK weather stations. Our stations record measurements of various aspects of weather, including temperature, humidity, rainfall, wind, cloud, visibility, snow depth and sunshine.  We also look after three weather radars, two volcanic Ash LIDARS (which monitor volcanic ash activity), and an Autosonde (automatic weather balloon launcher).
I've created and continue to maintain several engineering admin systems and participate in discussions about recruitment and training of new engineers. I've also implemented hardware improvements and presented at training courses about the role that the Field Service Engineering team undertake.  
5. What do you like most about your role?
I've taken part in many opportunities I hadn't imagined when I first applied for the role. These have included setting up weather equipment for the Wimbledon tennis tournament and Open golf tournament in Northern Ireland. Seeing behind the scenes of these events is fascinating, and playing a key role in the setup of major sporting events is something I can be proud of. I've also completed short-term detachments in Cornwall and the Shetland Islands.
I really enjoy the overseas detachments to locations such as the Falkland Islands, Ascension Island, Gibraltar and Cyprus. They are challenging but very rewarding. I've been able to see some great sites and wildlife (such as penguins and elephant seals in the Falklands and turtles in Ascension). I wouldn't have had these opportunities outside work.
6. 

What difference do you make in your role, both to the Met Office and the planet?
My team and I keep our crucial observations networks running reliably, which are key to providing weather forecasts and monitoring climate change. Our data and forecasts are also used to prepare for extreme weather events; for example, recommending which roads to grit during freezing conditions or preparing for floods.
I also recognise the importance of making a difference for our environment and the planet. So I've taken the opportunity to implement various improvements at our local office and beyond, including upgrading our network of Autosondes to LED lighting and installing recycling bins. This helps us on our journey to Net Zero by 2030.
7. Why would you recommend engineering at the Met Office?
The variety of work and locations keeps my job interesting. I have a great deal of flexibility in planning both my day-to-day activities and choosing which projects to get involved in. I enjoy the mix of working both solo and as part of a small team of engineers. There are many opportunities to try new things and plenty of learning and development opportunities too.
I'd encourage people to consider engineering at the Met Office. We employ at all levels and allow progression within engineering from Apprentice through to Expert Engineer. So you don't need to have a university degree to work here. In recent years most recruits have started at Technician Engineer level. This is a similar role to Engineer, but with less responsibility for planning day to day tasks while you are learning the ropes.
Clee Hill weather radar, one of the three radars maintained at Watnall Service Centre.