UK extreme events - Heatwaves
Determining the likelihood and severity of extreme events for the past, present and future.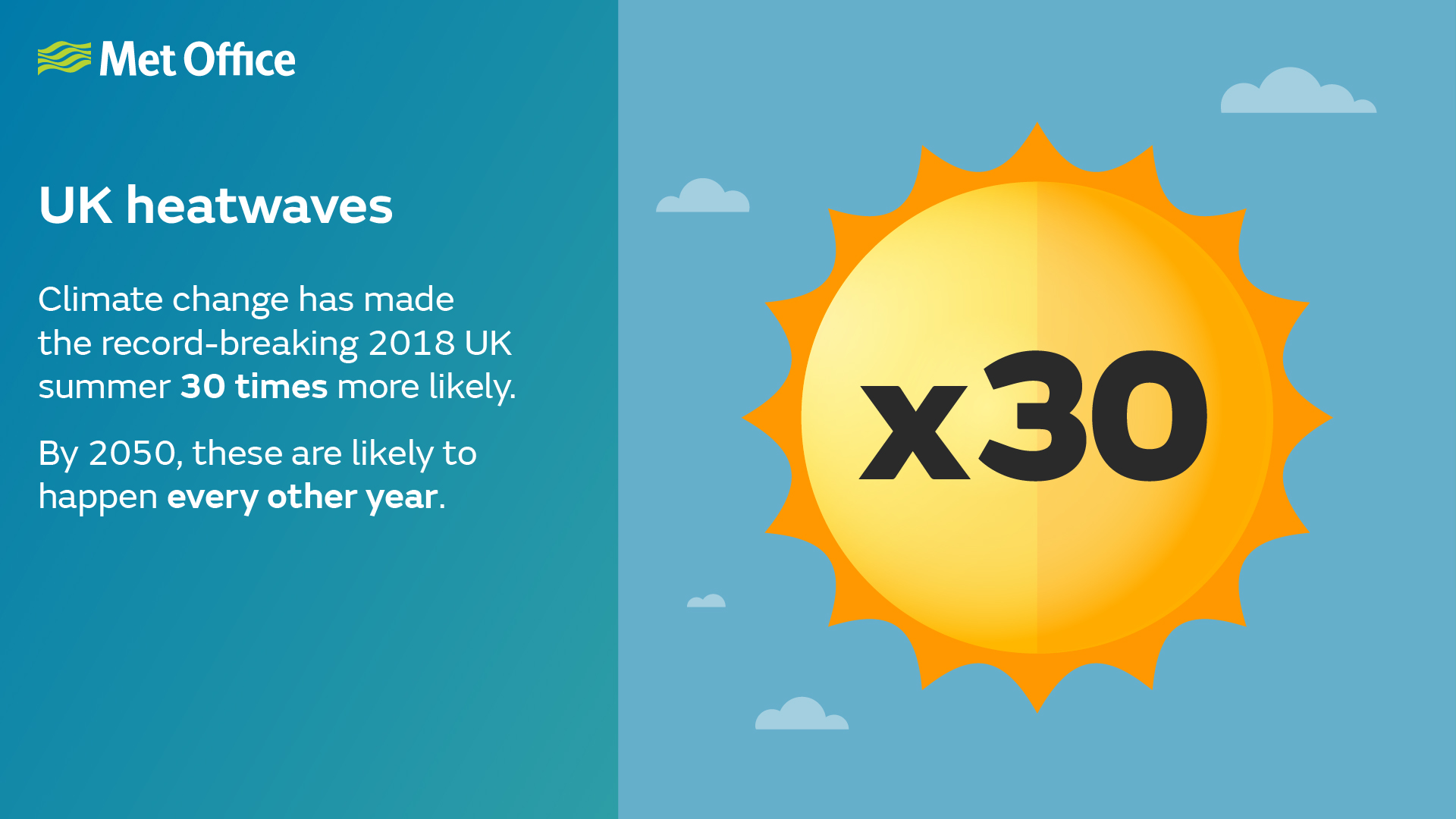 Reference - Met Office research
Extreme weather events such as heatwaves and floods impact all levels of society and can lead to large economic costs, population displacement and loss of life. This page outlines the latest research on whether we're experiencing more heatwaves in the UK, whether they're due to climate change and what we can expect in the future.
Heatwaves
Are we experiencing more heatwaves?
The latest UK State of the Climate report shows we are experiencing higher maximum temperatures and longer warm spells. The hottest day of the year for the most recent decade (2008-2017) has increased by 0.8°C above the 1961-1990 average*. Warm spells have also more than doubled in length – increasing from 5.3 days in 1961-90 to over 13 days in the most recent decade (2008-2017). South East England has seen some of the most significant changes, with warm spells increasing from around 6 days in length (during 1961-1990) to over 18 days per year on average during the most recent decade.
Are these changes due to human influence on the climate?
Several studies show strong evidence that human-induced climate change is increasing the risk of heatwaves. For example extremely warm summers in Europe, such as was seen during the European heat wave of 2003 which was responsible for 2000 excess deaths in the UK, are now expected to happen twice a decade compared to twice a century in the early 2000's**.
More recently, the summer of 2018 was the joint warmest on record for the UK as a whole and the hottest ever for England. The Met Office have shown that human-induced climate change made the 2018 record-breaking UK summer temperatures about 30 times more likely than it would have been naturally.
How is the risk of UK heatwaves going to develop in the future?
The latest set of UK climate projections (UKCP18) provide the most up-to-date assessment of how the UK climate could change over the 21st century. UKCP18 showed that a summer as warm as 2018 was very unlikely in recent decades (<10% chance) and that warming so far had increased the chance to between 10-20%. By mid-century summers as warm as 2018 are expected to become the norm (about a 50% chance) and by the end of the century the chance could increase to over 90% under a high greenhouse gas emission scenario.
References:
* Met Office, National Climate Information Centre. 2018. State of the UK Climate 2017: Supplementary report on Climate Extremes. 
** Christidis, N et al. 2014. Dramatically increasing chance of extremely hot summers since the 2003 European heatwave. Nature Climate Change 5, 46-50.
Related Pages
Weather extremes and climate change
Global extreme events - Heatwaves
Global extreme events - Heavy rainfall
Global extreme events - Drought
Global extreme events - Tropical storms
UK extreme events - Heavy rainfall and floods