The Met Office and the IPCC
As one of the world's leading climate research centres, the Met Office Hadley Centre is a key contributor to the IPCC process.
What is the IPCC?
The Intergovernmental Panel on Climate Change (IPCC) is an international scientific organisation that provides research-based information about the causes and impacts of climate change. It also assesses measures for lessening the severity of climate change and the potential for adapting to its consequences. Its purpose is to inform government policy, but it does not recommend which policies governments should adopt.
The IPCC was formed in 1988 by two bodies: the United Nations Environmental Programme and the World Meteorological Organization. Thousands of scientists from across the world voluntarily contribute to its assessment reports, which are published every six years or so.
Scientists contribute around three different Working Groups which look at different aspects:
Working Group 1 which sets out the physical science basis of climate change.
Working Group 2 looks at impacts, adaptation and vulnerability.
Working Group 3 examines the mitigation of climate change.
The IPCC is publishing its Sixth Assessment Report (AR6) in stages between August 2021 and September 2022. It is the latest set of reports to assess scientific knowledge on climate change including our past, present and future climate, its impact and future risks, and options for adaptation and mitigation. The reports provide scientific evidence for policymakers all over the world to use in decisions about how to tackle climate change.
How is the Met Office involved?
As one of the world's leading climate research centres, the Met Office Hadley Centre is a key contributor to the IPCC process. We have provided input to every IPCC report over the years and AR6 is no different. We have six scientists contributing in key positions across all three of the working groups, as well as many others as contributing authors or reviewers. Our observational datasets, climate modelling and numerous peer-reviewed papers from our scientists have also contributed to the reports. Our contribution draws on the breadth of the UK's climate expertise and our partnerships with research establishments across the UK and internationally.
Professor Albert Klein Tank is the Director of the Met Office Hadley Centre. Following the release of the Working Group I report, he said:
"This report paints the starkest picture yet of the global and regional impacts of climate change. Time is short to avert the worst impacts of climate change, but the report also reminds us there is no scientific reason to delay action. The case is clear. More focussed projections of future climate change are making some more optimistic outcomes even more challenging, and that should be a warning to all.

"Both Met Office science and our scientists have played a pivotal role in the development of this latest IPCC report, as we have done for the last 30 years since the production of the IPCC's first report. It is time now for everyone to listen to that science."
The Met Office's Richard Jones has been the co-ordinating lead author on the Interactive Atlas – a new feature in the Working Group I report. He said:
"The report demonstrates that climate change is currently affecting all regions and will increasingly do so over the coming decades. Each region will experience a diverse and often unique combination of changes in climatic conditions which have the potential to cause impacts affecting people or ecosystems. Over land areas these will always include changes linked to heat and cold, rain and drought and in many cases coastal flooding, wind, snow and more. This focus on impact-relevant changes is a new feature in this Working Group I report. It comes from a significant effort from the IPCC and the authors of its reports to improve collaboration between the working groups. Here it ensures this report is relevant to Working Group II on Impacts, Adaptation and Vulnerability."
The Working Group II report also saw significant Met Office contributions, including several contributing authorships and a lead author. Colleagues from the Met Office Academic Partnership (MOAP) have also contributed to the report as authors and editors.
Professor Richard Betts MBE, of the Met Office and the University of Exeter, is one of the report's Lead Authors. He said:
"This Sixth Assessment Report shows that climate change is already having widespread impacts, and further impacts are in the pipeline even if emissions are cut as rapidly as the most ambitious scenario suggests. Urgent action is needed to adapt to these changes.

"We also conclude that many future climate-related risks are more severe than previous IPCC assessments, increasing the urgency of cutting greenhouse gas emissions to limit future warming to as low as possible."
Professor Klein Tank commented on the publication of the Working Group II report:
"Preventing debilitating impacts on society from increasing climate change is no longer a choice - that option closed several decades ago.

"Today's report says it is vital to adapt to the increasing climate change we are already seeing and what we know we will see in future.

"But of course lowering greenhouse gas emissions will help to avoid the most extreme climate change impacts."
Met Office science has formed a valuable component of the Working Group III report, with Professor Jason Lowe OBE, of the Met Office and the University of Leeds, acting as a review editor on the report's introduction.
Dr Andy Wiltshire, Head of Earth System and Mitigation Science, said:
"Climate change remains one of the major threats to human wellbeing and security. Rapid reductions in emissions of greenhouse gases remains the only way to reduce this risk. The recent set of IPCC reports bring a message of hope, that through climate resilience development combined with protection and regeneration of our environment we can simultaneously mitigate the worst risks, adapt to the inescapable impacts of climate change whilst improving human wellbeing and sustainability. To realise this potential requires urgent action to mitigate emissions and set us on a sustainable path of development."
See below a timeline of IPCC reports the Met Office has been involved with, leading up to the release of all AR6 publications.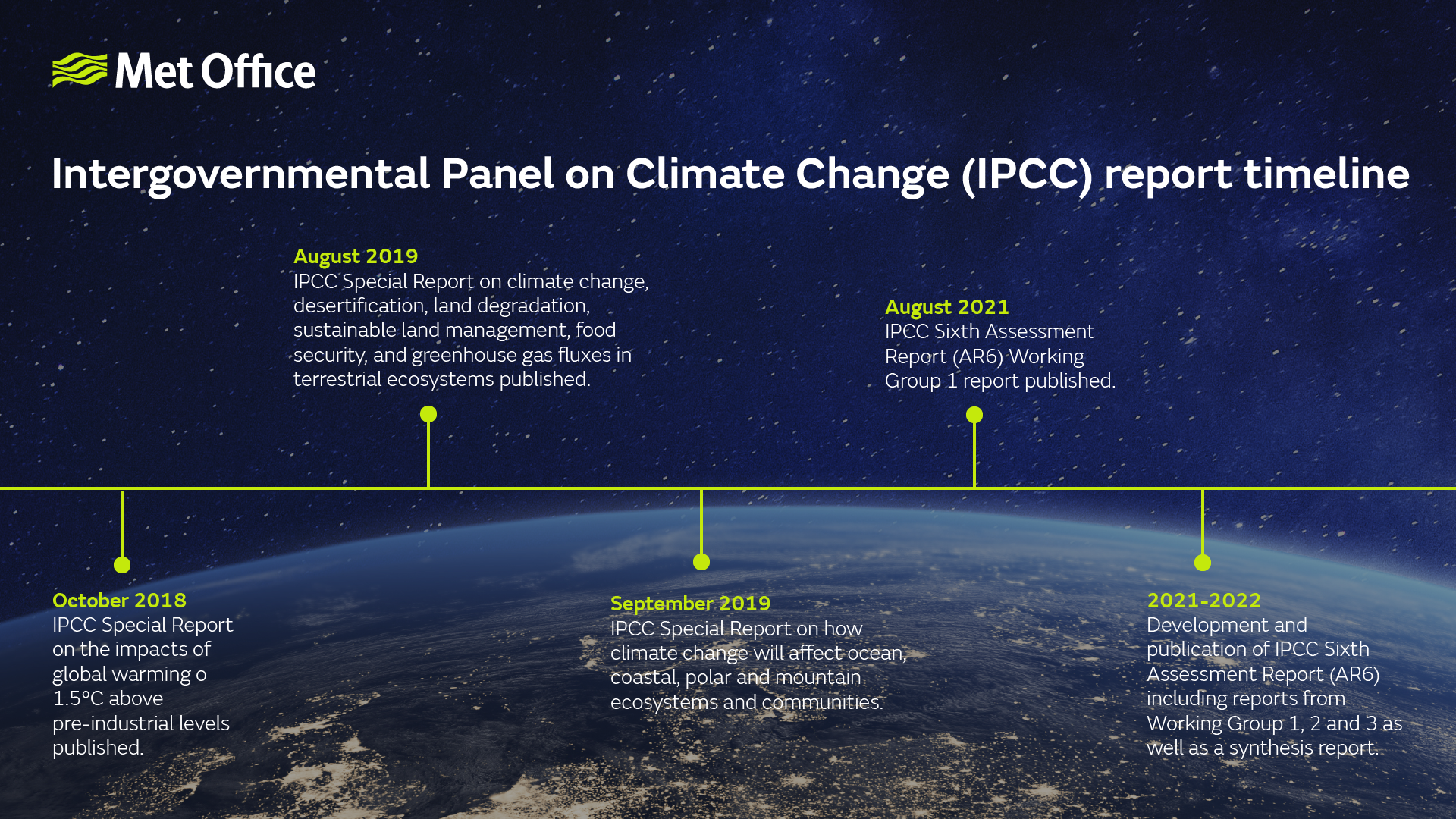 Related links
The Met Office is not responsible for the content of external Internet sites