Met Office Hadley Centre Climate Programme
A climate research programme funded by BEIS
The impacts of climate change are already evident both in the UK and worldwide, through changes in extreme weather, increasing temperatures, diminishing snow and ice, and rising sea levels. The Paris Agreement in December 2015 marked a turning point in climate negotiations with 195 governments agreeing to take global action to tackle climate change.  
The UK's independent adviser on climate change, the Climate Change Committee published the Independent Assessment of UK Climate Risk.  The Assessment sets out the significant threats and opportunities to the UK from climate change, alongside its statutory advice to Government on adaptation. The government will carefully consider this report and the accompanying advice, issuing its response through the 3rd Climate Change Risk Assessment (CCRA3) Government Report in early 2022. This will mark the end of the CCRA cycle and inform development of the next National Adaptation Programme.  
As a result of these reports, the signing of the Paris Agreement in December 2015 and the 2019 legislation to commit the UK to a legally binding target of net zero emissions by 2050, the UK Government's evidence needs from climate science have changed.  
There has been a shift from proving that climate change is happening to understanding the nature, magnitude and rate of the change and more detailed information on what these changes mean to individuals. Preparing for unavoidable climate changes will require more local analysis and even more information on how global warming translates into local-scale changes in weather and climate extremes and the associated impacts. Further research around stronger mitigation actions is needed to inform climate policy ahead of COP26, ensuring carbon budgets that limit global warming to well below 2C and preferably 1.5C are put in place.  
As one of the UK's foremost climate change research centres, the Met Office Hadley Centre's climate research programme will continue to provide the policy-relevant scientific evidence and advice in the post-Paris context. 
What is the Met Office Hadley Centre Climate Programme?  
The Met Office Hadley Centre Climate Programme undertakes scientifically excellent research in collaboration with academic partners in the UK and internationally which shapes and informs our understanding of climate change and its impacts, including contributions to major international climate science initiatives such as IPCC reports.  
What does the Met Office Hadley Centre Climate Programme do? 
The new programme will align to key questions the UK Government has put to the climate science community. With a focus on extreme weather in a changing climate and the risks and impacts associated with extreme weather, the new programme for 2021 and beyond, will deliver the latest developments in underpinning climate science and its translation, including for use in services, to improve understanding of the climate system and its behaviour. Changes in weather extremes are already being observed and will continue to be seen in a warming climate. Linking up adaptation and mitigation research to inform "resilient" future pathways forms a key element of the programme.  
There remain fundamental scientific questions that need to be resolved such as the sensitivity of the climate system to increasing greenhouse gas concentrations, the role of high impact / low probability events (or tipping points) and how local scale weather will change with large-scale climate warming. Flexibility has also been built in to accommodate changes in the climate science landscape such as the context of addressing potential changes in the direction of science arising as a result of the COVID19 pandemic and its global impacts.    
Through collaboration with national and international partners, the Met Office Hadley Centre, will play a vital role in answering these questions, providing scientific evidence to build our current understanding on: 
Enhanced supercomputing capacity supports the Met Office Hadley Centre Climate Programme 
In 2022, new supercomputing infrastructure will provide enhanced supercomputing capacity and performance to support our weather and climate operational and research workloads for the next decade. This new supercomputing capability will unleash the full potential of the Met Office's global expertise in climate science and address these important questions to ensure government, industry and communities are better prepared for our changing climate. It will do this through: 
Enhanced climate monitoring capability of greenhouse gases and attributing climate changes to causes. Monitoring of key climate indicators: past, present and early warning of future changes. 
Improved quantification of global carbon budgets to assess feasibility of pathways in adherence to the 2015 Paris Agreement. 
Advanced seasonal to decadal predictions to aid risk-based decision making and planning.   
Revised climate projections to inform mitigation and adaptation planning. 
Decision relevant impact-based projections for climate resilient pathways that will inform Government policy as part of the UK's fight against climate change, and its efforts to reach net zero by 2050. 
Core infrastructure contributing to National Climate Capability, making data and knowledge more accessible, relevant and usable for policy makers and planners.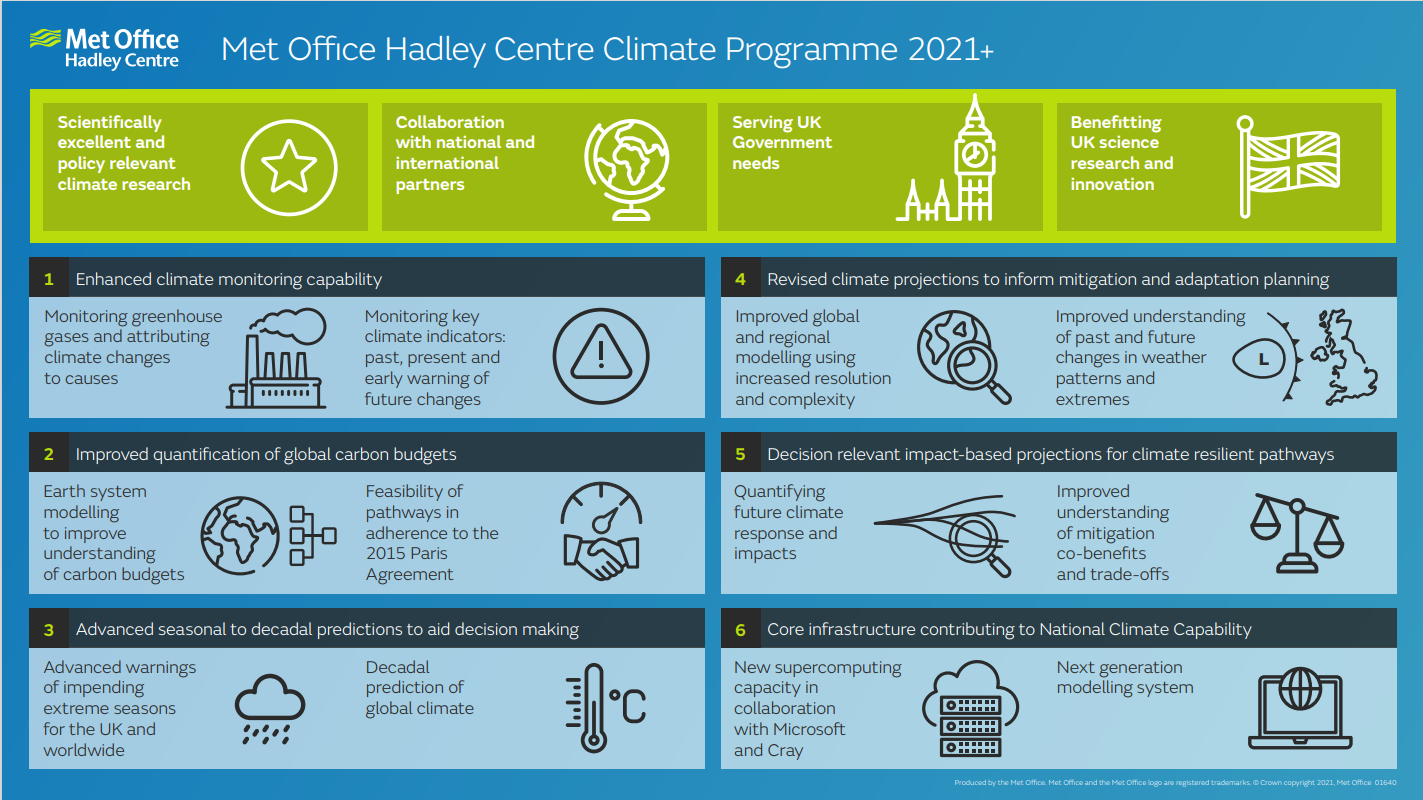 Building on previous success of the Met Office Hadley Centre Climate Programme 
Funded by the Department of Business, Energy and Industrial Strategy (BEIS), with input from other Government Departments, the new programme builds on the successful developments from the previous programme (2018-2021). These developments reflect the changing drivers of climate science resulting from the Paris Agreement. They include: 
Moving from proving that climate change is happening and predictable to monitoring, understanding and supporting decision-makers with the management of current and future weather and climate hazards and risks. 

Informing the development of strategies for lowering greenhouse gas emissions to avoid the most dangerous impacts of climate change. 

Assessing the risk of abrupt, potentially irreversible, Earth system change (including so-called tipping points). 
Detail on how global warming translates into local-scale changes in future climate projections for weather and climate extremes, such as windstorms, heat waves and coastal and inland flooding events. 
Global climate is projected to continue to change over this century and beyond and the Met Office Hadley Centre has a vital role to play in providing the relevant scientific evidence required for climate action to avoid the worst impacts of climate change for future generations. The Hadley Centre Climate Programme 2021+ will inform services to help the UK Government and policy decision-makers globally address the societal challenges of climate change and build a more resilient net zero future.